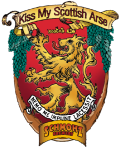 This year Schmohz stashed away some Kiss My Scottish Arse to barrel age.   We sampled it the other day and it is awesome.
Join all the Schmohicans in raising a pint to kick off the Two weeks of Tree Beer – Beer City   28-August-2014 5PM
Brewers Grove Project   Check out the map of other Breweries offerings here
Tree-themed beers will be available from Friday, August 29 through Friday, September 12 (or until they run out!)
The Brewers Grove project started in 2013 when local brewers asked Friends of GR Parks (FGRP) how they could celebrate being named Beer City USA by give back to our parks and public spaces.  And the idea was seeded to create tree-themed beers that would be offered for a limited time with proceeds going directly to FGRP's Urban Forest Project and tree plantings.  In 2013, a Brewers Grove of 30 trees was planted at Riverside Park with volunteers from local breweries.
To celebrate this great collaboration, we'll be hosting a BREWER'S GROVE PARK PARTY on Friday, September 12 at Riverside Park. Meet the minds behind the Tree Beers and enjoy "Strange Brew" on the big screen! Be sure to stop on the way to pick up your favorite Tree Beer in a Growler to enjoy at the event.